En tournée
GARDENS, cradles of culture
A cappella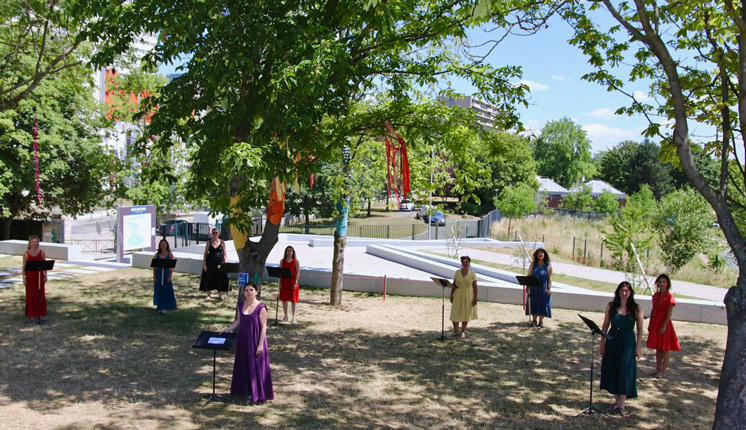 GARDENS, CRADLES OF CULTURE
Catherine Simonpietri's note of intent,
A project in response to the health crisis for the summer of 2020 :
"After a state of shock and astonishment faced with the health crisis, I felt a vital urgency for live music, with actual, flesh and blood singers and a real audience, proof of true communication and of a privileged share between artwork and human.
But how, while scrupulously respecting the distancing rules, can we reach the public?
Having been established for more than 20 years in the Seine Saint-Denis area (a poor and popular department near Paris) has already allowed us to question ourselves, to reinvent ourselves and to create different forms to meet the public and defend creation, vocal art and artistic requirements among the inhabitants, who are rich in cultural diversity.
Reinforced in our convictions, this summer, and for the third consecutive year, we will more than ever inhabit the public space, occupy the public parks of the area, release live music and offer many workshops of mediation and cultural activities.
Our concert halls will be the department's green oases, our spatialized singers will be accompanied by enhanced sound, many sound devices will join the singing birds, and our audience will be walkers and residents.
Our ambition: to enable an audience of all ages to embark on a journey to polyphonic Corsica and its Mediterranean musical inspirations."
 
Program Intent Note
"The music is first transmitted through lullabies, soft melodies that constitute a comforting envelope of sound. Nature isin herself an inexhaustible source of sound, from the soothing sound of waves, the rustling of leaves in the wind, to the songs of birds.
Indeed, the first musical notes that will rock a baby's soul are probably those emitted by the voice of his parents singing lullabies; or they could be those of the wind in the trees or the raindrops hitting his bedroom window. It seemed obvious to us then, to bring together the voices of lullabies with the vibrations of nature.
In this Mediterranean island, singing is not only an entertainment or an artistic exploration, but a method of communication of primary importance in a society with an oral tradition, which still has its talented spokesmen.
The Corsican melody draws its inspiration from the various Mediterranean musical traditions; one finds traces of Gregorian modes, the musical rhythm of the Greeks, adopted by the Latins or the Andalusian "malagueñas". The poetry, spontaneous, can be soft and caressing, sparkling with stars and flowers, rustling with birds, streams and foliage, but also tragic, passionate, wild, fiery and dark, like a heartbreaking cry coming from the depths of the heart."