Création en cours
50/50 - JANIS JOPLIN / JIMI HENDRIX
SEQUENZA 9.3 / TRIO POLYCORDES / LYDIE SALVAYRE
Cross-over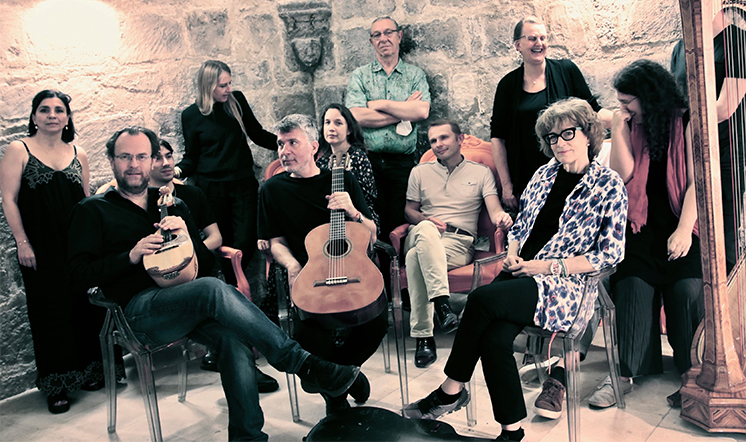 Janis Joplin Jimi Hendrix Claude Barthélémy Carol Robinson creation Florentino Calvo Sequenza 9.3 Fabien Cali Justina Repeckaïte Catherine Simonpietri Jean-Marc Zvellenreuther
50/50 - JANIS JOPLIN / JIMI HENDRIX
Sequenza 9.3 / Trio Polycordes / Lydie Salvayre
This is the project carried by the Ensemble SEQUENZA 9.3 and the TrioPolycordes, stirring together lyrical voices and plucked strings instruments.
Evocation of an era by 4 commissions
to 2 male composers & 2 female composers
(Claude Barthélémy, Fabien Cali, Justina Repeckaïte and Carol Robinson)
Ensemble vocal Sequenza 9.3
Conductor: Catherine Simonpietri
TRIO POLYCORDES
Florentino Calvo, mandolin
Jean-Marc Zvellenreuther, guitar
Sandrine Chatron, harp
CRÉATIONS
FABIEN CALI (1989 -) - "We Paint Red through the Sky" (titre provisoire)
CAROL ROBINSON (1956 -) - "Can You See"
CLAUDE BARTHELEMY (1956 -) - en trois parties - « Le Rêve des Cigales » / « Totem Blues » / « Les Temps Thermiques »
JUSTINA REPECKAÏTE (1989 -) - "Cri" (titre provisoire)
Avec bande électroacoustique construite à partir de sons d'archives de l'époque
ARRANGEMENTS (par Fabien Cali, Carol Robinson et Claude Barthélémy)
Joe Cocker : With A Little Help From My Friends – Tutt
Jimi Hendrix : Hey Joe – Tutti
Country Joe : Feel like I'm Fixin' to Die – 4 hommes a capella (ou option avec mandoline)
Gracie Slick & Jefferson Airplane : White rabbit – 4 femmes, guitare & harpe
Jimi Hendrix : Up From the Skies – Tutti
Janis Joplin : Mercedes Benz – Voix a cappella
Creedence Clearwater Revival : Proud Mary – Tutti

Carol Robinson (2020)

"Somewhere between their sounds and screams, their riffs and wails, Janis and Jimi became a part of us, forever. During the '70s everything seemed possible until the raw truth of Jimi and Janis cut through. We let them test the waters for us, let them dare to confront the confines of our world, as we watched on with fascination. I was young, far too young, in the sparkling clean world of the American Dream, to have the slightest idea of what could generate such powerful emotion, but Janis and Jimi, with their brazen, incongruous and intriguing music, gave me a glimpse of a more troubled and dangerous world…
Now, some five decades later, will the trials of 2020 lead us once again to that level of expressive urgency bereft of artifice or facade? I think so. It is inevitable. For me, 50/50 with its audacious voices and biting plucked strings will be a project that not only gives homage to two extraordinary creators, but also provides a transposition of their expression into our present."
Claude Barthélemy's note of intent
"Janis, Jimi, Jimi, Janis .... these two figures have become such icons that we tend to forget that they are first of all great professionals, immense surveyors of the Blues, the founding genre from which all the so-called popular music in the West today came, starting with Jazz, and Rock.
I would also like to emphasise their intelligence which is remarkably illustrated in the words of Hendrix, which do not seem aged or dated today, and by Joplin in the wise choice of her accompanists. Her recordings are a testament to the perfection of her interpretation, unusual for records at that time.
It will therefore be first a question of Blues, a way more than a norm, but also colourful, multicoloured moods, and, I hope, of humour, and emotional impact."
« Oh Lord ! Would you buy me a Mercedes Benz… »
Fabien Cali's note of intent
"Until adolescence, I was what Nadia Boulanger called a" sleeper". A passion for electric guitar, blues, rock or even metal brought me out of this torpor very unexpectedly and finally led me to my life as an artist today. After the overwhelming impact of my studies, hindsight and experience bring me back to the music and artists that have carried me along from the beginning to integrate their influences into my work as a composer. And among these artists there are of course Janis Joplin and Jimi Hendrix.
Beyond the richness of the repertoire they created, what affects me is, above all, their relationship to sound, phrasing, spontaneity, play, the unexpected but most importantly the raw energy. All this is at the heart of my approach and I hope to be able to go even further with the artists present in this project.
Woven around meticulously chosen texts, the palette of sounds offered by Sequenza 9.3 and the Trio Polycordes is such that the possibilities seem inexhaustible. The roughness and spiciness of the plucked strings are in my opinion perfectly complementary to the flexibility and density of the vocal ensemble. More than a tribute, it will be for me to create a moment of personal powerful music, in which the shadows of our two icons will sail freely."