MOVING STILL
PROCESSIONAL CROSSINGS OF MARTHA GENTILLUCI / BIENNALE DI VENEZIA
A cappella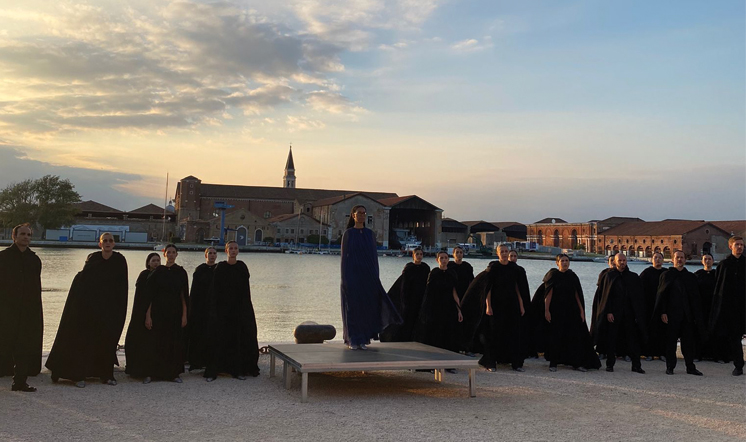 MOVING STILL
PROCESSIONAL CROSSINGS of Martha Gentilluci / Biennale di Venezia
For four speaking voices and vocal ensemble
Processional work with original texts by Elisa Biagini, Evie Shockley, Irène Gayraud and Shara McCallum
Commissioned by La Biennale, the processional work titled Moving still – processional crossings is conceived by Marta Gentilucci – the Italian composer trained internationally, with a Ph.D in composition from Harvard and a research residency in composition at Ircam in Paris – in collaboration with four contemporary poets who wrote the original texts. They are Elisa Biagini, Irène Gayraud, Shara McCallum and Evie Shockley, each with a different language, culture and aesthetics, but a "common focus on orality, on the importance of the sonic transmission of the text" (M. Gentilucci).

The work will be performed along a path that will start in the late afternoon at the Sale d'Armi in the Arsenale, moving through the streets and squares of Venice to meet the public across the city, and ending inside the Teatro alle Tese. It is a reflection upon every possible variation of a group of people going and moving – from the religious act to the protest march to migration, "on having to being able to go elsewhere".
Conceived for a mixed vocal ensemble and four narrating voices, the work will be performed by the twelve voices of the Sequenza 9.3 ensemble of Paris joined by twelve voices from the singing courses of the Conservatory of Venice, all conducted by Catherine Simonpietri. They will be directed by Antonello Pocetti.