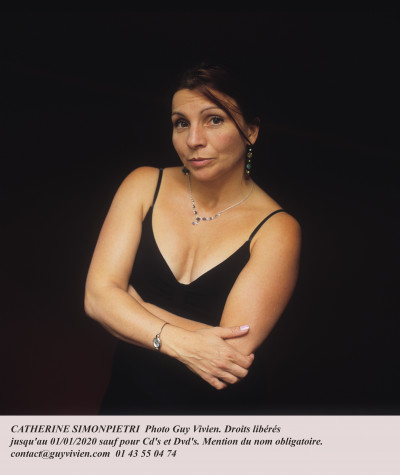 A graduate from the Royal Conservatory of the Grand Duchy of Luxembourg and the International School of Choral Singing of Namur (Pierre Cao), Catherine Simonpietri honed her talents with Frieder Bernius, John Poole, Erik Ericson, Hans Michael Beuerle and Michel Corboz. 
A holder of the Certificate of Aptitude for Direction of vocal ensembles, she has taught at the CNSM in Paris since 2001, at the CRR d'Aubervilliers / La Courneuve, as well as at the Pôle Sup'93.
In 1995, she participated in the creation of the Mission Chant Choral de la Seine-Saint-Denis, a structure intended to develop choral singing in this department by combining training, creation and diffusion, before assuming its educational and artistic direction. 
Passionate about contemporary artistic creation, in 1998 she created the professional vocal ensemble Sequenza 9.3 with which she developed a demanding musical policy open to the different aesthetics of the 20th and 21st centuries. 
A guest conductor of the National Chamber Choir in Ireland, the Flemish Radio Chamber Choir, the Radio-France Choir, the Quebec Chamber Choir, the Arsys Bourgogne Ensemble, the Friborg International Festival of Sacred Music, the Gächinger Kantorei Stuttgart, she also served as a member of a jury at the Besançon international competition for young conductors.